FLOS Snoopy Table Lamp: Where Design Meets Innovation
Inspired by the popular cartoon by Charles Shultz and designed in 1967 by Achille & Pier Giacomo Castiglioni, Snoopy Table Light is an instantly recognizable, iconic piece.
Features:
Composed of a glazed metal reflector, placed on a luxurious Italian white Carrara marble base, Snoopy table lamp exceeds expectations in terms of lighting and aesthetic appeal.
Perfectly used on a bedside table, desk, or sideboard, diffusing a delicate light and leaving a lasting impression.
Specifications:
Design/Year: Achille Castiglioni and Pier Giacomo Castiglioni/1967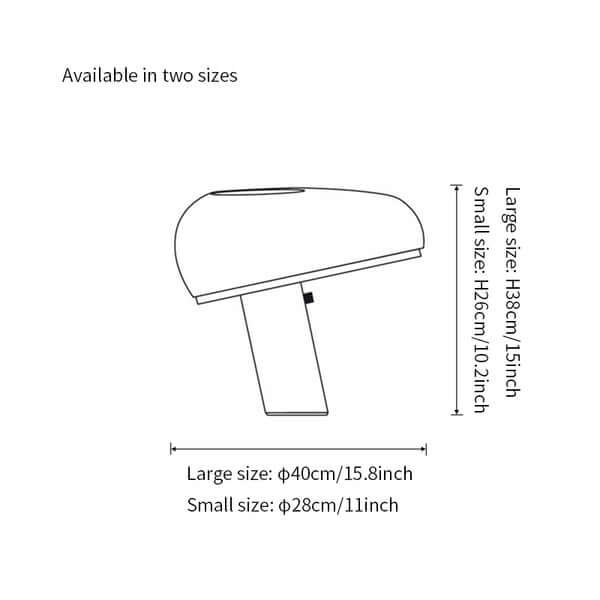 Material: Metal / Marble / Glass
Light source: 1pcs E27 Light Bulb
Voltage: 110-240V
Power: Max 40W
Weight: 4kg / 8.8lbs
Finishes: Black, White, Green
Marble size: White
Process: Polishing, Baking paint
Control method: Touch Sensor Switch (Not Dimmable)
Warranty: 2 Years
The marbling varies from product to product and may therefore look different from the images shown.
Size Diagram:
Dia 28cm x H 26cm / ∅ 11 ″ x H 10.2 ″
Dia 40cm x H 38cm/∅15.8 ″ x H 15 ″
Sure, here's the product description with the internal links incorporated naturally:
Timeless Elegance Meets Modern Innovation
The FLOS Snoopy Table Lamp, a 2003 reintroduction of the original design by Achille and Pier Giacomo Castiglioni from 1967, perfectly embodies the harmonious blend of timeless elegance and modern innovation. This exceptional lamp features an enameled shade available in a variety of colors, brilliantly diffusing light through a thick disc of glass to provide an ideal wash of task lighting. To know more about the right lighting, you may read our article on how to choose the right lighting. It sits in perfect equilibrium on a white marble base, integrated with a user-friendly dimmer.
Italian Heritage, Global Appeal
Born in the heart of Italy, Merano, in 1962, FLOS is an epitome of high-quality modern lighting. You can learn more about our brands here. The company has continued its legacy of producing provocative and daring lighting fixtures that stay true to the principles of good design. Check out FLOS in our brand catalog. Collaborations with talented international designers and research into the latest lighting technologies and materials are at the forefront of FLOS's exceptional offerings. To stay updated with the latest news, visit our media center.
Classic Charm, Contemporary Makeover
No one can resist Snoopy. This charming and handsome lamp, skillfully crafted with a solid marble base, an enameled metal reflector, and a thick glass diffuser, exudes sophisticated aesthetics. Its 1967 classic design has been given a bold makeover in a vibrant green finish, transforming it into a truly eye-catching gem. Understand the impact of indoor lighting on your living space and why light temperature matters by visiting our guide on warm vs cool lighting. With the addition of an advanced touch-sensor dimmer, the FLOS Snoopy Table Lamp is not just a piece of decor but an embodiment of cutting-edge innovation. To know more about the latest trends in lighting, read about our lighting trends in 2023.
FLOS Snoopy Table Lamp
Achille and Pier Giacomo Castiglioni
Modern lighting design
Italian lighting fixtures
Innovative task lighting