Specification:
Color: Black
Material: Iron
Voltage: 110-240V
Lamp numbers: 8
Lighting Area: 15-25㎡
Light source: 8pcs E27 Light Bulbs(Not included)
Application: Study/Bedroom/Living room/Restaurant/Entrance
Size Diagram: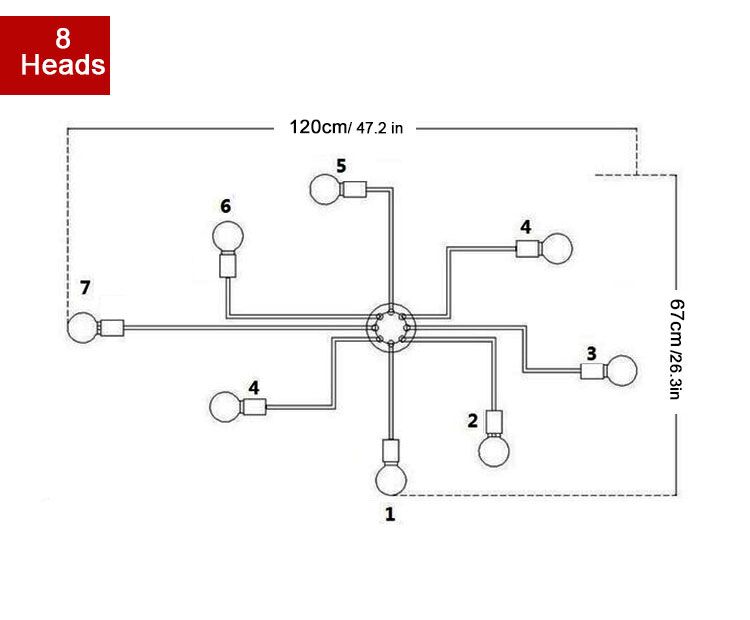 Package Include:
1 x Ceiling Lamp(Light bulb not included)
Note:
This lampshade does not include light bulbs, the picture is only for presentation.
Effortless Assembly and Installation for Linear Ceiling Chandelier
FLAMWILD Sputnik Linear Ceiling Chandelier, Achieving a dreamy home ambiance has never been easier! This unique ceiling light fixture is crafted to ensure a hassle-free assembly and installation. Pre-connected wiring eliminates the often challenging process of wire management. Your task is straightforward: simply screw each arm into the center column, pass the main wire through the extension rod, then connect the wires and voila! Your beautiful light fixture is ready to grace your ceiling. No professional help needed, no extra costs, just a simple process that takes you from boxed product to beaming light in minutes.
FLAMWILD Sputnik Linear Ceiling Chandelier-Smart, Dimmable Lighting
Experience the epitome of versatility with our dimmable ceiling light fixture. When paired with a compatible dimmer switch and dimmable bulb, this light adjusts to match your mood or occasion. Want a soft, romantic glow for a quiet dinner at home? No problem. Need brighter light for your book club gathering? It's just a switch away. Control your environment's ambiance and mood with this adaptable fixture that offers a range of brightness to suit any setting.
Illuminating Beauty for Every Room
This ceiling light fixture is more than just a lighting solution; it's an integral part of your home décor. It's designed to deliver a generous spread of light, enhancing every corner of your room. Whether it's adding a warm glow to your cozy living room, providing ample light for your kitchen prep tasks, or creating a welcoming atmosphere in your dining room, this fixture fits the bill. Suitable for various spaces including restaurants and cafes, it effortlessly matches style with practicality. Check out more options for every room and style preference.